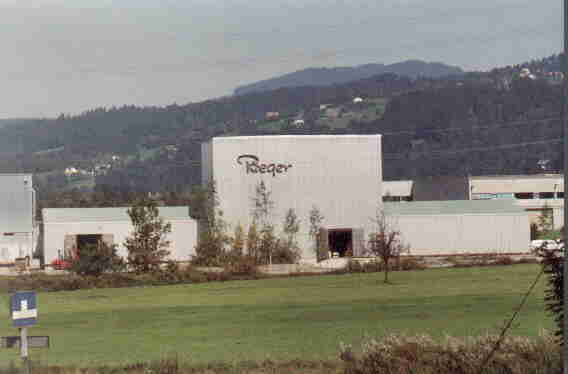 In September, 1987 I travelled to England, Germany and Austria. During my stay in Austria, I visited the Rieger Orgelbau factory in Swarzach. Swarzach is just outside the town of Bregenz on Lake Constance in Voralberg, the westernmost district, of Austria.
At that time an instrument was being built for my congregation, the Sunnyside Seventh-day Adventist Church in Portland, Oregon, USA. I saw several of the parts of our instrument under construction during my visit.
The very fine Rieger History web pages feature a nicely illustrated account of the firm's more than 150 year history. The link here is to the English version, but the web is posted in both German and English.
These pictures and their story have been presented as a slide show to the congregation during the erecting of the instrument (while the front of the church was a shambles!) They have also been shown in poster form during the inaugural concert series.
The organ was installed in the summer of 1988. Photo of the completed instrument and instrument specifications are here.
Note that the opinions expressed here are my own and in no way represent those of Rieger Orgelbau, nor any of its personnel.
I am most grateful to Christoph Glatter-Götz who allowed me free run of his factory for one exciting day. I have tried to capture what I saw in these pages.
Your comments, suggestions, and/or corrections are most welcome. Please let me know how you like the tour.
Richard Crowley
Portland, Oregon, USA